Teacher Appreciation Event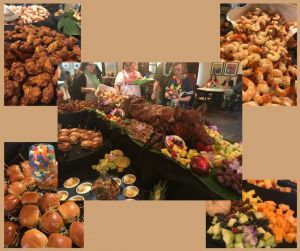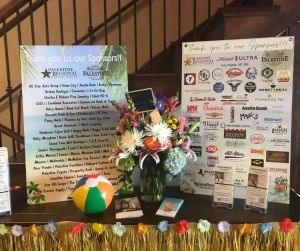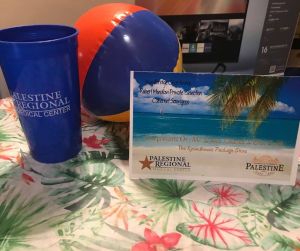 Each year in May, the Palestine Chamber of Commerce teams up with Palestine Regional Medical Center to celebrate Anderson County teachers. We invite all education professionals in the area to attend an evening of appetizers, drinks and prizes. This event always garners immense support from area businesses by way of prize donations, monetary donations, and volunteers. The event is open to all Anderson County Educators. This includes Palestine, Westwood, Cayuga, Neches, Elkhart, Slocum, Frankston, University Academy and Christian Heritage Academy.
This year, the Teacher Appreciation Event, titled "Teachers Luau Celebration" was held on Tuesday, May 2, at The Historic on Crawford Street in Palestine. Starting at 4 p.m., educators began arriving and the first 50 received complimentary "swag bags" filled with donations from local businesses.
Guests enjoyed a tasty and attractive spread from Palestine Regional Medical Center Chef Rob Wilson and team, and paired their plates with complimentary water, tea, or chose from the broad selection of beverages donated by Ben E. Keith along with wines donated by Charlie and Elise Smith with Roundhouse Package Store.
Doctors from Palestine Regional Medical Group attended to introduce themselves and personally thank all of the educators in attendance. In attendance were Candice Buckles, DO-Obstetrics & Gynecology; Hilary Currie, MD-Obstetrics & Gynecology; RoJon Grogans, MD-General Surgery; Andrew Roberts-MD, Urology; Matthew Rudolph, DO-General Orthopedics; Julia Short, FNP-C-Family Medicine; Sandy Webb, MD-Family Medicine.
Over 100 door prizes and three grand prize packages were awarded to attendees throughout the night. Donations for these prizes were given by local businesses including Satellite Source, Palestine YMCA, Starr Hill Lodge, Island Tans Gift & Boutique, Eilenberger Bakery, Asian City, Fancy Nails, McDonalds, Gold Eye Clinic, J&B Security, Jocelyn's Donuts, Jeff Taylor, Great American T-Shirt Company, Home Grill Steak House, Queen Street Grille, Discount Pools and Spas, Flowers by Pat, Austin Bank, McMullen Tax Service, Chick-Fil-A, L&L Shoe Store, Mazzio's Italian Eatery, MistyK Designs, Walmart, Prosperity Bank, Happy Nails & Day Spa, Lowe's, Braly's Hardware, Tractor Supply, Over Yonder, Mario's Mexican Grill, Dead Cat Ranch, Commercial Bank of Texas, Broken Boutique, Chili's, Little Mexico, Palestine Toyota, Combined Associates-Jodi Davis, Dairy Queen, Hambone's Cajun Grill, The Co-Ed Shop, El Toro, Sonic, Cavender's, Deluxe Nails & Spa, Palestine Furniture, Charles E. Dickens Fine Jewelry, Ivan Smith Furniture, Happy Trails BBQ, The Flower Shop, Jamie's Therapeutic Touch, Railyard Customs & Collision, Holly Mangham, All Star Auto Group, Somethin' Sweet, Tyer's Auto AC and The Roundhouse Package Store.
Thank you to all area Education Professionals!
Comments from Education Professionals in attendance! If you would like to leave a review, click the "Leave Review" button below. 
"Thank you for hosting a great event. Southside staff truly enjoyed it. Food was delicious." - Grace Estrada Mancilla via Palestine Herald Press Facebook
"It was so nice!! The food was amazing! Thank you so much treating us so well!" -Jeannie Morton Linam via Palestine Herald Press Facebook
"It was so nice. Thank you for hosting such a wonderful event!" -Shari Cooper Spangrud via Palestine Herald Press Facebook
"Thank you so much! Everything was amazing!!" -Rene' Thomason via Palestine Herald Press Facebook
"The annual teacher appreciation event held by the chamber is such a wonderful reminder to educators of how valued and appreciated they are in our community. The chamber along with so many have placed this event at the top of their priority list creating an event that is always first class. From the lovely venue, The Historic to the delicious dining to the generous prizes and fun activities, each detail communicates to each guest they do great work and it is highly valued. Thanks to all who contributed to providing area educators with an oasis of time to just slow down and be appreciated." -Larissa Loveless
"I feel that the event was very well planned and organized. I want to thank everyone in the community that has supported the teachers and donated this year, it was above and beyond all expectations. The food was outstanding and the beverage choices were excellent. It was an amazing opportunity to get together with all of the teachers in the districts and to know that we are supported by the community. Thank you for celebrating the teachers of Palestine." Melissa Barraza